November 4 – November 11
Santa Teresa, Costa Rica
$1995 USD – Shared Accommodations (Save $150 with code CR150 off Full Price of $1995 until Sept.15th)
$2495 USD – Single Accommodations (Limited Spaces Available)
Click Here to Register Now!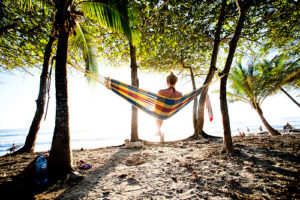 Calling all yogis and yoginis who yearn to travel and explore, to simply lay by the ocean and watch the waves, to practice yoga in the open air surrounded by nature, to surf, hike, explore tide pools, and to enjoy incredible bodywork in paradise! Join us for our first-ever Wanderlust Retreat!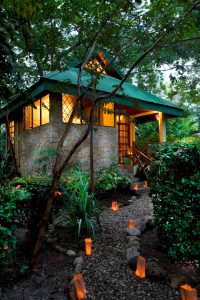 The Santa Teresa Boutique Hotel, Spa & Yoga Center is the ultimate getaway to relax, rejuvenate, play, and explore! Together we will practice restorative and enlivening yoga classes, feast on wholesome meals (organic and local whenever possible), bliss out in the resort pool surrounded by lush greenery, and much more! For yogis who want to wander, we can play in the ocean, take excursions, and explore the culture of Santa Teresa.
The Wanderlust Retreat will be the perfect balance between adventure and relaxation, local culture and beach time, yoga and massage! Come wander with us, and discover exactly what you have been seeking!
Retreat Includes: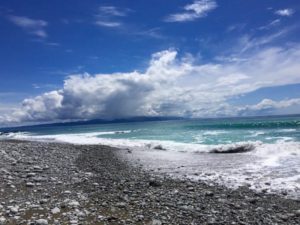 7 Nights Accommodations (1st Night in Airport Hotel, 6 Nights in Santa Teresa)
3 Whole Foods Meals Each Day
Ground Transport to/from the airport & between locations
Daily Yoga Classes
Rest Time in Nature
Spa Services & Excursions* Optional and available for an additional charge
Accommodations
The retreat will be held at an intimate beachfront hotel and yoga center located in Santa Teresa, a breathtaking white sand beach on the Pacific Ocean of Costa Rica's Nicoya Peninsula. Situated on four acres of unspoiled tropical beach, you will find beautiful swimming areas and also outcroppings of rock where natural tide pools form. Breakfast, lunch, and dinner are prepared daily and include healthy vegetarian options along with fish and/or chicken. The food is organic when available and prepared with nourishing ingredients.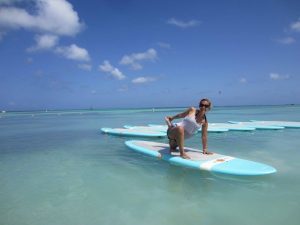 Activities
Some of the possible options include:
Stand-Up Paddle Boarding (SUP)
Surfing Lessons
Boat Ride to Tortuga Island with Snorkeling
Hiking in Cabo Blanco Natural Reserve
Zip-lining/Canopy Tour
Kayaking
Karma Yoga Activity
And More…
*Price of Activities are not included in tuition


Spa
Discover the true meaning of relaxation at the center's Spa, offering a variety of first-class spa services performed by professional therapists. Treatments utilize 100% natural products. Offering massages, wraps, exfoliation treatments, facials, acupuncture, reiki, reflexology, and other beauty treatments, the Spa is located in front of Santa Teresa Beach so that you may enjoy the sounds of the sea and its cooling breezes.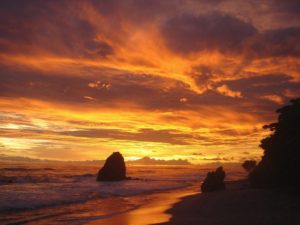 How to Register
To register, go to our Online Registration Platform.
Paying your initial deposit of $300 will lock in your tuition rate and hold your space for the trip.
A $35 Service and Administration Fee will be added to the tuition rate.
For technical questions or alternative payment options, please contact us.
Getting There
All international flights will arrive at the San Jose International Airport (SJO). Before booking tickets, please be sure you have received your official confirmation note that the retreat has met its minimums. There will be one group airport shuttle each way based on our flight window guidelines. Be sure your flights align with the provided flight windows if you wish to use the group shuttle.
Booking Your Flight for the Best Price Possible!
True Nature Education and STA Travel have partnered together to provide you the best airfare for your upcoming trip. STA Travel is a full-service travel agency which offers affordable, flexible fares and access to their exclusive airfare deposit program. Please use the following link here to book or contact STA Travel directly.
Frequently Asked Questions (FAQs)
Do you have questions about travelling abroad? After you register, we will provide you with a Participant's Package with helpful information. Also be sure to check out our Student FAQs. If you have other questions, feel free to write us at info@truenaturetravels.com and let us know how we can help!
Registration & Occupancy Type Policy
We do our best to honor your registration choice. If we cannot fulfill the occupancy type that you selected due to enrollment pairings and/or minimums, we will notify you 90 days prior to your trip. If group accommodations are listed as a registration type, please note we must have a minimum of 5 participants of a single gender who have selected group occupancy in order to offer this option.
Cancellation Policy
Initial deposits are non-refundable
50% of payments are refundable up to 90 days before program excluding initial deposit
89 days prior to a program, tuition is non-refundable
True Nature is not responsible for any loss incurred due to currency conversion rates.
Group Shuttles/Flight Windows Policy
If your trip includes group transport (most do), True Nature will organize group shuttles to get you to and from the retreat center. In order to utilize these group shuttles, Participants' flights must fall within the flight window guidelines we provide in our confirmation and "Time to book your flight" emails. In the event that the actual arrival time does not coincide with our windows (such as in the case of flight cancellation or delay,) participants will incur the expense of alternative transport. If you have any questions, comments, or concerns, don't hesitate to contact us.
.